School ERP Management
Make school management simple and efficient with the best school ERP software solution in the market today!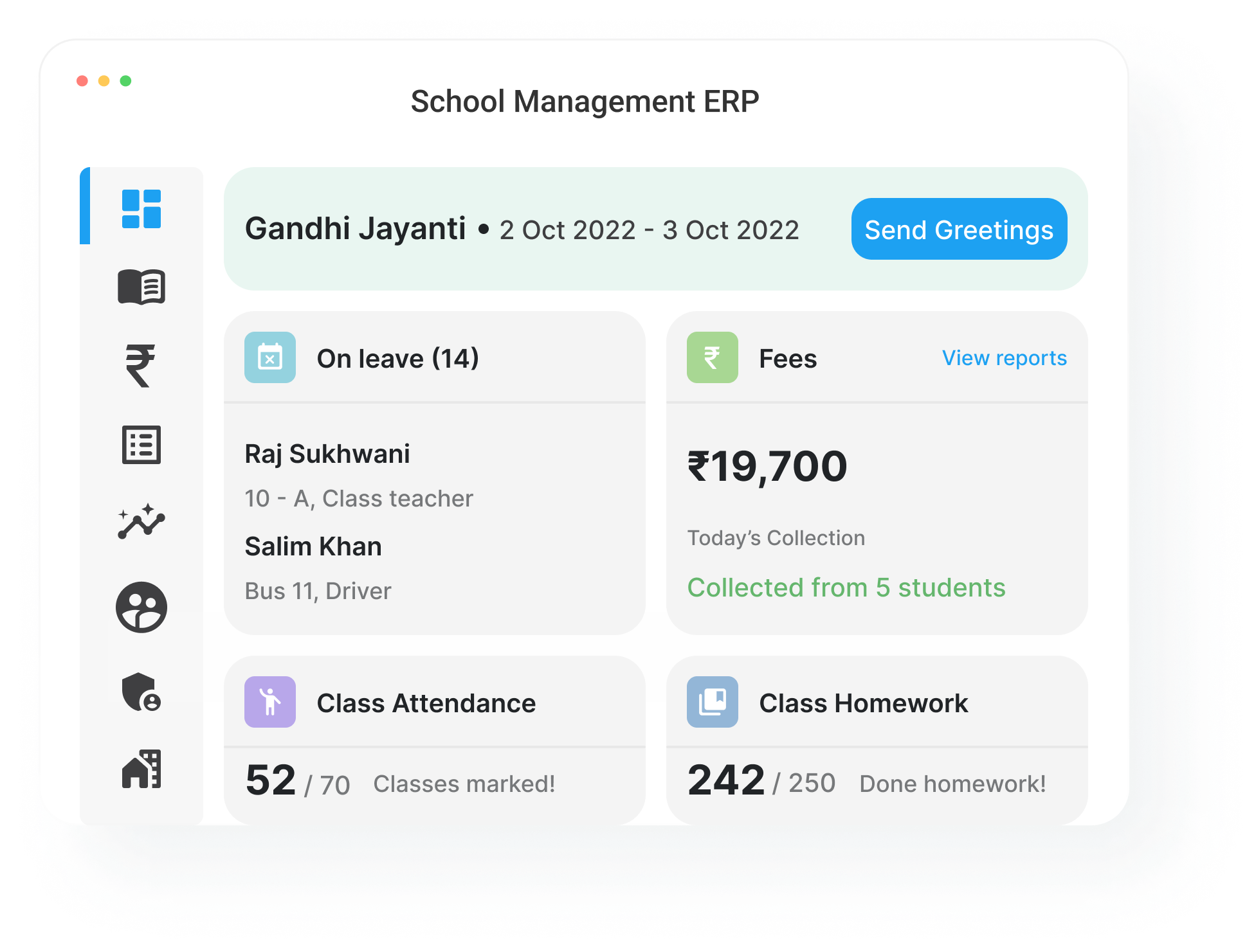 Overview
Fee Management
Customize and simplify the process of fee collection, segregation, management, and issuing discounts as and when required
Attendance Management
Manage school attendance without taking up precious class time with an effective attendance management system in place
Admission Management
Track student inquiries offline & online, track potential leads at every stage, and create an admission portal with zero coding required
Transport Management
Plan out routes, manage staff, track the number of school buses plying, and their location with GPS, and more
Human Resource Management
Check staff attendance, and manage & monitor their leaves
Inventory Management
Keep track of all the items present at the school, categorize items as per utility/convenience, and purchase items as they run out
Communication Module
Send out announcements, conduct relevant polls, and conduct surveys
ID Card Generator
Generate ID cards for students and staff, customize them as per requirement, and easily rectify errors if any
Certificate Generator
Generate certificates & documents for students and staff, tweak the design as per requirement, and even design them from scratch
Exam Management
Schedule & plan exams for the entire year and print report cards seamlessly with minimal human involvement
Website Builder
Create and update the school's website, customize it according to your requirements, and maintain it efficiently in-house without any knowledge of coding
School Yearly Calendar Planner
Plan the entire academic year in advance including weekly offs, holidays, school events & activities, and even exams
Benefits
1
Automates School Administration
Just like managing any other institution or company, school administration has several variables involved that are interconnected with one another. Automating a large number of these tasks using software makes the job of every person in their respective administrative roles simpler, less resource intensive, and time-consuming.
2
Improves School Efficiency
With the use of Teachmint's online school ERP software, the overall efficiency of each person in the school administrative system will increase overall. This is because of the lighter cognitive load on the administrators brought about by using an ERP system. ERP for schools not only helps administrators but also helps teachers and parents keep track of student attendance and performance on a regular basis.
3
Reduces Chances of Error
With a large portion of administrative tasks being taken care of by school ERP software, the chances of error reduce drastically. The use of software makes sure that there are no human errors in calculation or execution, which reiterates the previous point regarding improved school efficiency.
4
Simplifies Exam Management
Planning and scheduling exams is a major part of a school's functioning. Teachmint helps digitize that process as well with our Exam Management System. It even helps automate the process of issuing report cards and sending them to parents as soon as the results are out. Teachmint goes as far as to make sure that the report card generated is NEP 2020 compliant by including grades for co-scholastic activities.
Teachmint strives towards making every school under its wing future-proofed and ready for any changes that may result from new regulations. With an effective ERP for schools, combined with a seamless school LMS in place, we make sure that all the stakeholders of the institution benefit from our services and improve their efficiency and everyday experience in school.
FAQs
What are the main elements of a school ERP system?
What are the factors to consider when choosing an ERP system?
Can ERP improve student performance?
How does ERP for schools help teachers?
How customizable is Teachmint's school ERP system?
How does ERP for Schools provide visibility to administrators?
What are the benefits of using School ERP software?
What are the different modules included in ERP for school software?
How can School Enterprise Resource Planning software improve school efficiency?