Private Chats for Classrooms
Establish a personalized connection between teachers and students with Teachmint's Classroom Chat. Deliver important messages instantly with Teachmint!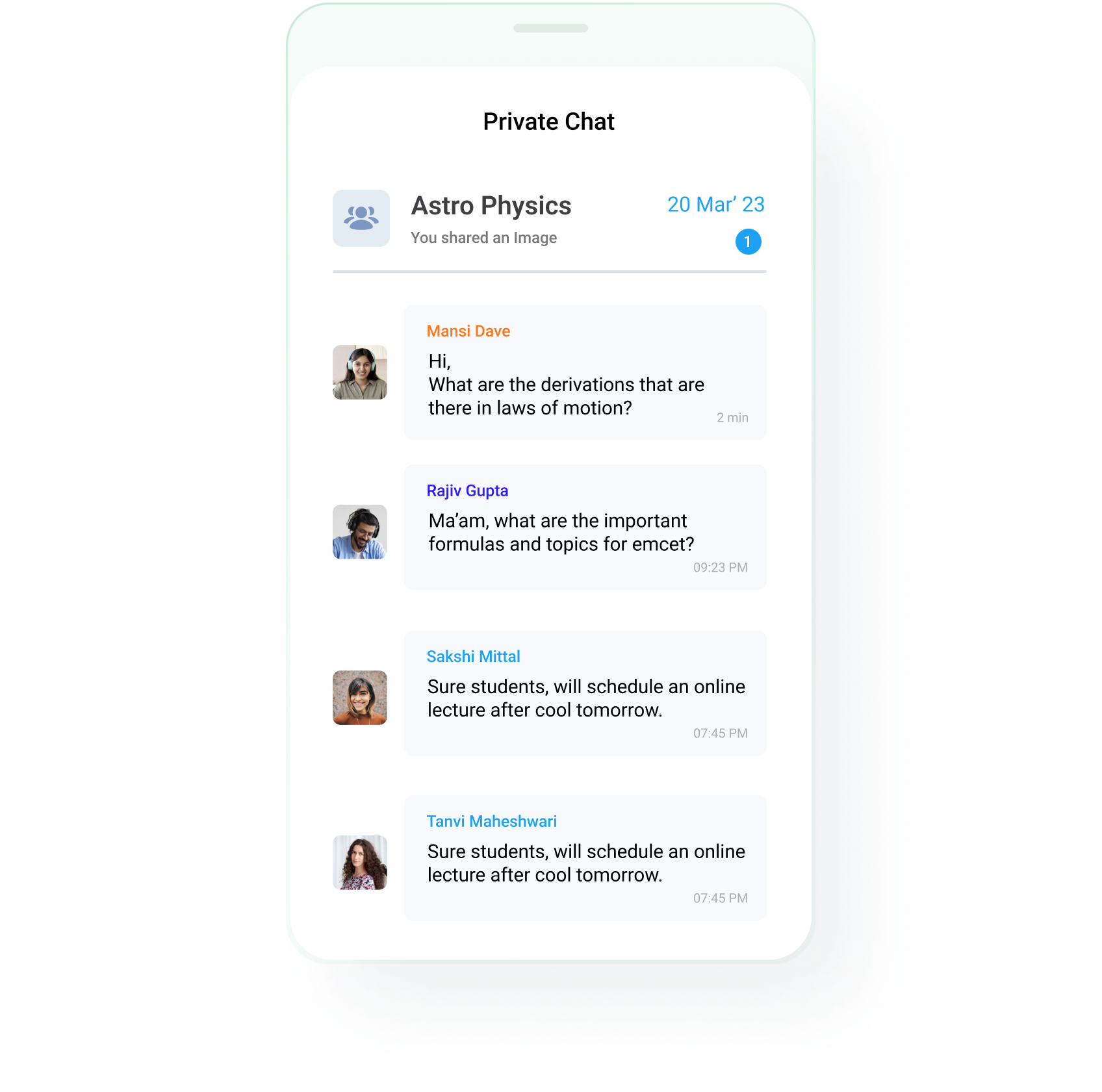 Overview
Easy Communication
Communicate efficiently within the class with Teachmint. Establish an easy, comfortable, and convenient communication channel
Doubt Clearing
Clear students' doubts in real-time with Teachmint's Classroom Chat. Share information effortlessly!
Improved Collaboration
Allow students to connect with each other for a better learning environment & witness improved classroom collaboration!
Benefits
1
Better Communication
One of the crucial benefits of using Classroom Chat is to improve the communication between teachers, and students. They can connect with each other easily to solve doubts and revisit the concepts for better understanding. Moreover, the feature is a sigh of relief for shy students who feel uncomfortable asking questions in front of their peers. In addition, it also helps parents as they get insights into classroom activities.
2
Time Saving
Classroom Chat allows students and teachers to communicate with each other without delays. It saves time and improves classroom productivity. Moreover, it improves collaboration as students can connect with their teachers and peers in real time. They can discuss classroom activities, resolve doubts, and share their ideas with each other without losing their precious time.
3
Timely Communication
Keeping everyone on the same page is critical when it comes to managing an educational institution. That's when Teachmint's Classroom Chat comes in handy. It helps teachers make instant announcements in the classroom. Teachers can send messages related to homework, projects, assignments, and classwork through the chat feature. It helps students complete their tasks on time.
4
Efficiency in Virtual Learning
The Chat for Classroom feature brings efficiency to virtual learning with real-time information sharing and reminders and announcements. Every student has a different learning pace, so the one-size-fits-all approach does not work in the teaching-learning process. The chat feature helps students resolve their doubts without getting uncomfortable. Moreover, it helps in maintaining consistent communication in a virtual learning space.
Communication in the learning process is paramount as it keeps everyone on the same track. The easier the communication between different levels, the more simplified the learning process. The Classroom Chat feature ensures that there is greater collaboration and engagement in the learning process.
FAQs
What is the benefit of using Classroom Chat?
Can the chat feature be accessed on both the web and the app?
Can images be shared on the chat?
Can others view what is shared on Private Chat?
Why should institutes use the Classroom Chat feature on Teachmint?