Yearly Calendar
Plan the entire year in advance with Teachmint's Academic School Year Calendar! Organize the Year Planner and make decisions ahead of time in a few steps.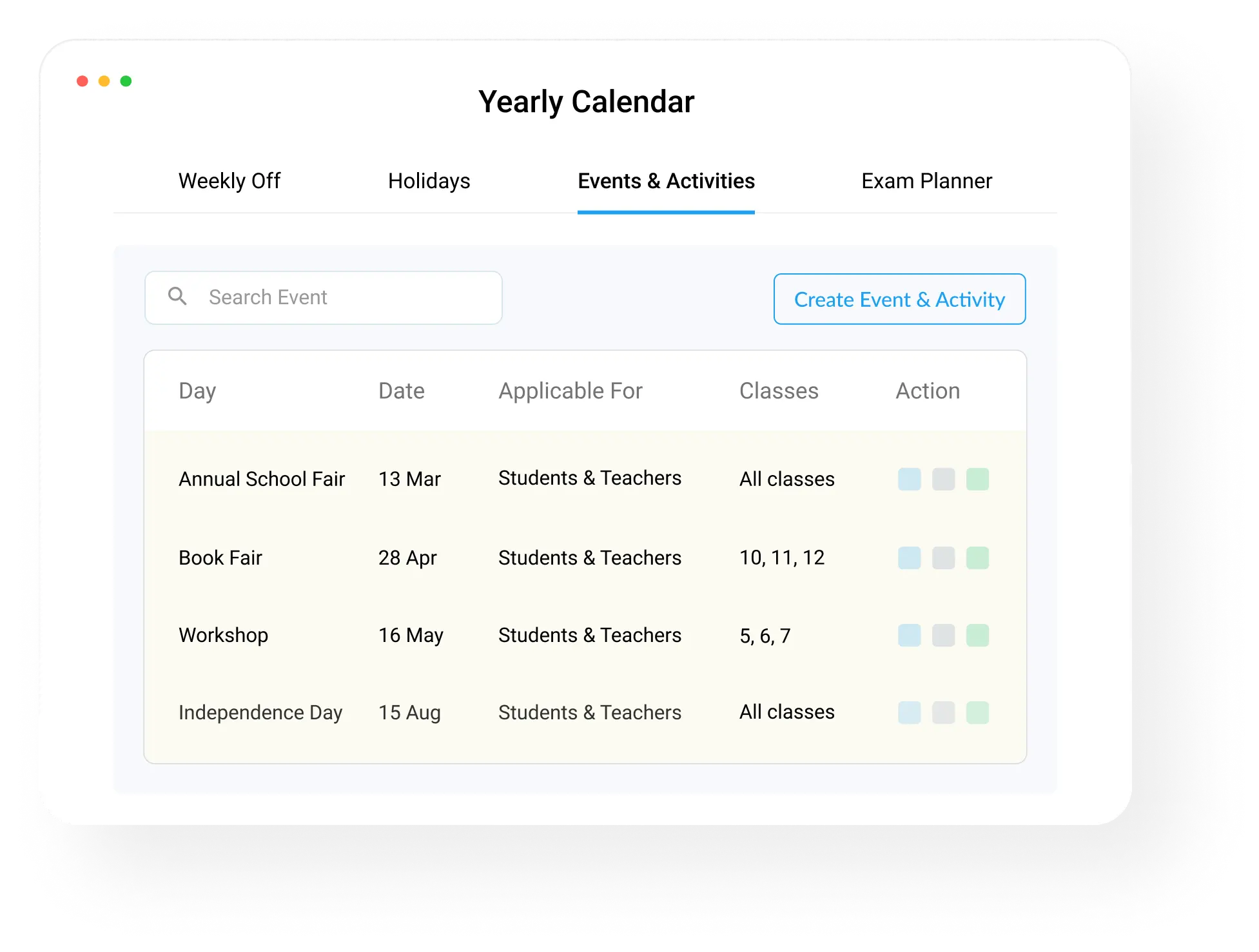 Overview
Plan Exams Hassle-Free
Schedule exams and class tests division-wise with Teachmint's Academic School Year Calendar Planner! Convey the exact exam schedule at the right time
Manage Holidays & Vacations
Avoid confusion and keep everyone informed about upcoming holidays with Year Planner. Be it summer vacation or winter holidays, keep everyone in the loop
Organize Events
Organize sports day, annual events, and more such activities with proper planning by Teachmint School Year Planner on your side!
Benefits
1
Set Up a Proper Structure
Our study planner for students gives admins the authority to plan the entire academic year in advance. They can organize events, set exam schedules, and manage holidays with Teachmint's Academic Planner.
2
Provide Full Visibility to Teachers & Parents
As parents and teachers are aware of the upcoming exam schedules, they can plan their days better. Teachers can take revision classes to help students prepare better for the exams. Likewise, parents can focus on improving the academic performance of their children by helping them in their studies. Moreover, they can manage the holidays better. As Teachmint's Academic School Yearly Calendar gives a detailed overview of upcoming exams and events, planning academic activities becomes convenient.
3
Better Planning
Proper planning is crucial for the smooth running and success of educational institutions. An Academic Planner helps institutes manage their activities and events better. With Teachmint's Year Planner for School, admins can manage exam schedules, plan for events like annual functions, set up a holiday calendar, and organize vacations.
4
Time Saving
Teachmint's Academic School Year Calendar is a must-have tool for admins as it helps them manage their institute without hassles. It assists them in managing exams, holidays, and other school events in a few simple steps. Every institute conducts multiple events during an academic year. These vacations and events work as a breather for students and help them take some time out of their academic routines. Students and teachers can see the upcoming events through Teachmint's School Year Planner. They get a clear picture of future events which in turn helps them in better planning.
Providing accommodation to outstation students becomes a prerequisite for educational institutes. In this process, they cannot afford to compromise students' security. Hostel Management Software can be used by institutes of every size to automate their hostel operations. This system reduces paperwork, improves efficiency, enhances hostel security, and maintains transparency. With Teachmint's Student Hostel Management System, institutes can manage their operations efficiently and effortlessly! It reduces the burden on administrative staff as most of the tasks are carried out digitally. It removes mundane paperwork and boosts productivity. As the tasks are automated, administrative staff can focus on managing other needs of the institute.
FAQs
When can teachers and students access the Teachmint Study Planner?
How can this help students?
How can this help teachers?
What activities can be performed using this feature?
Is it possible to reschedule exam dates?