Report Card Generation
Effortlessly generate comprehensive and customizable report cards, providing a detailed overview of each student's academic performance and progress, manage end-to-end exam process from scheduling to marks updation and customizable report generation, and facilitating transparent communication between educators, students, and parents.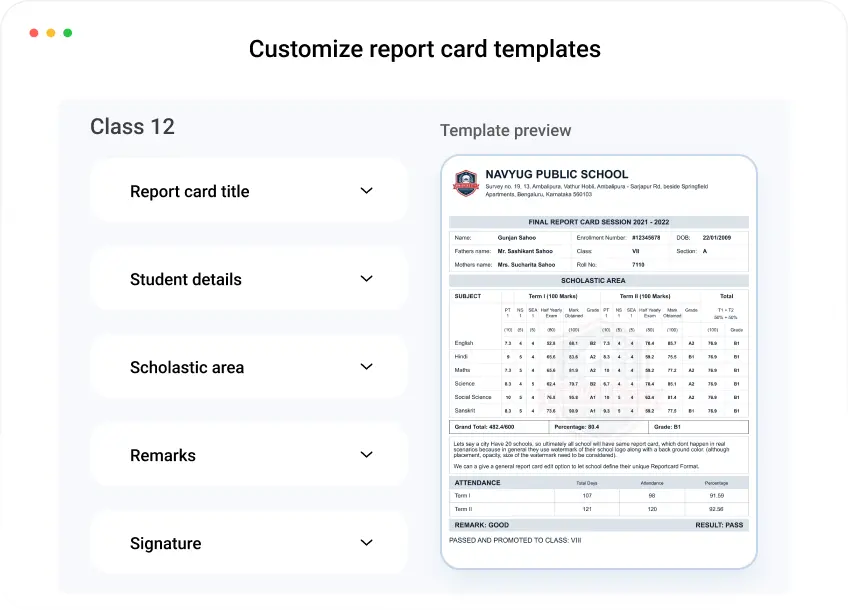 Overview
Customizable Templates
Customize student report card layouts, logos, and color schemes to align with the school's visual identity. Ensure a professional and branded appearance that reflects your institution's values and standards.
Holistic Attendance Tracking
Track scholastic and non-scholastic attendance and generate customizable reports at the end of year for all students.
Automated Process
Leverage automated algorithms to calculate final percentage and total marks accurately based on established assessment criteria in the exam report card generator. Teachers just need to add marks and grades with the passing criterion to generate final marks for their entire class. This minimizes the likelihood of calculation errors, promoting fair and reliable grading.
Comprehensive Performance Insights
Administrators can get quick insight into how many student report cards are generated through the student report card generator, how many teachers have uploaded marks for their respective subjects, and what action steps they need to take next.
Parental Access
Parents can access their child's report cards conveniently through the parent app. This digital accessibility fosters parent-teacher collaboration and transparency, enabling meaningful discussions about a student's progress and academic goals.
Efficient Distribution
Simplify the distribution process by delivering report cards digitally. This not only saves time and resources but also ensures that parents receive timely and accurate information about their child's academic performance.
Historical Tracking
Establish a digital archive for each student, storing past report cards for reference. This historical tracking feature allows educators, parents, and students to observe patterns, track improvement, and celebrate achievements over multiple grading periods.
Preview & Edit Instantly
Preview and edit the report card at short notice directly from the Teachmint platform
Streamline Exam Management
Teachmint's report card maker simplifies the entire exam management process, from exam creation to inputting marks into student report cards. The platform streamlines the entire workflow, making it efficient, automated, and user-friendly.
Efficient Bulk Report Card Download
Teachmint provides the convenience of downloading multiple report cards simultaneously, enhancing efficiency and saving considerable time. Users can opt for bulk downloads or generate report cards individually, based on their preferences.
Benefits
1
Facilitate Total Customization
Teachmint's Report Card maker module offers unparalleled flexibility, allowing meticulous customization from editing the report card title to the inclusion of teacher and parent signatures.
2
Save Resources
Reduce vendor dependency and create your customized report cards without any error. Teachmint automates this entire process to ensure that you save both cost and time while creating your printable customized report cards.
3
Comprehensive Stakeholder Communication
Students and parents stay informed about performance updates, while teachers and admins actively engage in exam planning and review processes. This ensures that all stakeholders are well-informed and involved in the examination proceedings.
4
Higher Parent Engagement & Satisfaction
The Report Card Maker feature ensures that parents are aware of every grade and mark scored in exams. This ensures that parents and teachers can provide early intervention to students if required. This also provides higher parent engagement and satisfaction.
Unlock the Potential of Your School with The Teachmint Report Card Generation Feature
The Report Card Maker feature by Teachmint is a transformative tool that yields multifaceted benefits for students, parents, staff, and school administrators. For students, it offers a clear and concise representation of their academic performance, fostering self-awareness and a sense of achievement. Parents gain real-time insights into their child's progress, enabling proactive involvement in their educational journey.


Staff members, especially teachers, benefit from the streamlined exam management process, reducing administrative burdens and enhancing focus on teaching. The feature facilitates efficient collaboration among teachers and administrators, ensuring a cohesive approach to exam planning and execution.


School administrators experience heightened efficiency in data management, as the system allows for bulk downloading of report cards, saving time and resources. The customization options empower administrators to tailor report cards to the school's unique requirements, enhancing brand consistency and professionalism.


Overall, the Student Report Card Generation feature promotes transparency and communication among all stakeholders, fostering a positive educational environment. Students are motivated to excel, parents are actively engaged in their child's education, staff experiences reduced administrative stress, and administrators benefit from streamlined processes. The student report card generator aligns with modern educational needs, ensuring a holistic and effective approach to academic reporting and management.
FAQs
Can report cards be edited after they are published?
How many templates are available?
Which parts of the Report Card template are editable?
Can the finished report card be viewed for confirmation before downloading?
Can the status of the student report card generator be checked?
How does the system handle mistakes in report cards after they've been issued?
Can I customize the report card templates to match our school's branding?
Is there support for different grading systems?
How does the app ensure data security and privacy for student information?